I started my business a decade ago when few people were talking about sustainability least of all reusing Christmas crackers. I stuck with the idea as I believed it was the right thing to do. Why and where did the idea come from?
Less waste, plastic free, reusable are words we all hear on a daily basis, and with an increasing amount of sustainable alternatives appearing on the market today, they are now common search terms too.
But let's cast our minds back a few years. It would not have occurred to many people to search for a 'reusable cracker' ten or even fifteen years ago!
Where did the idea come from?
It all started back in 2005. I had became a partner in an independent graphic design business. We liked to give our clients Christmas gifts and one year we chose handmade paper crackers. Made by an amazing Fair Trade producer in Nepal, my early designs were similar in shape to standard disposable crackers.
The handmade paper gave them a luxurious feel, and it was a shame to tear them and throw them away. In fact, here was the rub… The paper was so strong, it wouldn't tear! Besides, I hated the idea of creating unnecessary waste.
So, the challenge was to make a cracker that would be reusable and come apart without tearing. With a flash of inspiration I made a mock-up where one part fitted into another. 'Very clever', I thought, but soon found that I wasn't alone. There were handmade products on the market at the time that worked in a similar way. I started researching what other ideas people had come up with when I learnt about Mr Samuel Richard Fitch. He had applied for a Patent for a two part cracker and what will probably surprise you, as it did me, was the date of the application – 5th October 1899!
So I progressed with the idea and my early crackers looked rather like a two part version of a standard cracker. The snap was glued in at both ends.
I decided to shorten the lid part and cut it at a angle to make it easier to fit the two parts together.
Our clients were delighted with the crackers, they worked perfectly well, but I wanted to make a product that they would want to keep. It was disappointing that the ends got easily crushed when pulled and to expect people to stick a new snap in place was too much to ask. I needed to find a way that was less fiddly and didn't involve using glue.
The Reusable Cracker was born
It was a classic example of 'form follows function' as the box construction began to take shape. After much musing and paper folding, I came up with the idea of how to add a snap without glue. It's possible to hold the snap in place if it is threaded through slots at each end of the cracker. This is where the box shape comes in. The cracker would need to be cuboid in form in order for this to work. Great! I felt that I was making real progress at last. My new Reusable Gift Box Crackers no longer resembled standard crackers and they could be easily reused. Another advantage was that they could come flat-packed, ready to be popped into shape and filled.
I knew I needed to protect my new invention so I searched out the best lawyer to assist with a patent application. It was filed and subsequently granted.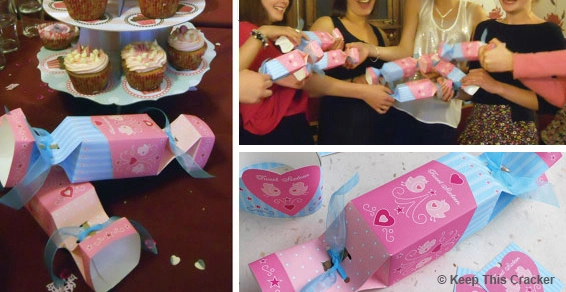 In the meantime, we were preparing for my daughter's 16th Birthday party and I thought it would be a lovely idea to make some crackers to mark the occasion. These cracker boxes were hand cut and folded using a recyclable material called 'Polyart', made from high density polyethylene. It could be printed on just like paper but was waterproof and tear-proof. However I quickly realised that plastic material was not the best choice and began researching the best paper stocks for the job.
The Reusable Cracker was launched at my first trade event in 2013. Made in the UK using FSC® certified board. So this is how the journey began and I've been developing and refining the concept ever since.
Developments and new inventions
New designs followed and a wedding favour collection was added to the range. It proved very popular as guests could take them away as mementos of the special day. Brides loved the fact that their wedding tables were not covered in piles off rubbish once the crackers were pulled. So were the venues as it meant less clearing up. Interestingly, the most popular designs were the ones with a snowflake pattern, ordered for winter weddings. Do crackers still only mean Christmas to most people?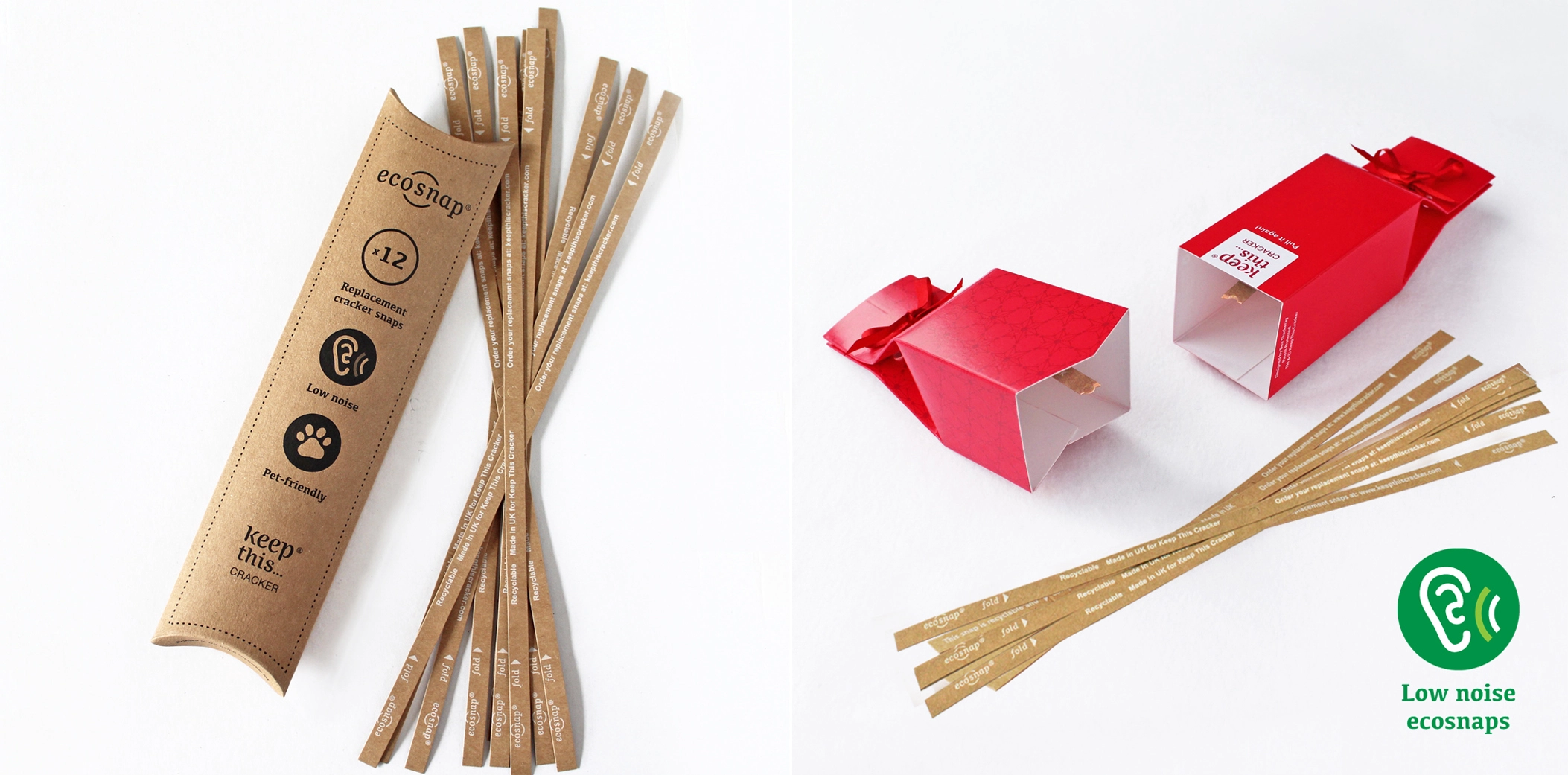 A later invention was the ecosnap. To add a bit of theatre at trade and retail events I would ask customers to pull a cracker and was surprised at how many people recoiled, they didn't want to pull them. I set about researching why this was the case and learnt that adults and children with conditions such as ADHD, Autism, PTSD etc. can't tolerate loud unpredictable noises. Pets often react to Christmas crackers with a fight or flight response, a similar reaction to thunder storms. My new challenge was to design a low-noise alternative to the explosive snap. To find out more, read my blog on why some people can't tolerate Christmas crackers. What do our pets hear that we don't? I've written a blog about that too.

It's sometimes good to look back and see how far you've come. The photo on the left is my first trade stand, the one on the right is our latest, at the Home & Gift Buyers Festival Harrogate, UK.
Meeting customers at events gives me an opportunity to listen to valuable feedback. I learnt that it would be a good idea to offer the reusable crackers with fillers, so we selected eco friendly gifts made in UK by independent makers as well as fair trade producers. It has been a great success at retail events as customers queued to have their crackers filled.
A question I am often asked is 'What can I put inside the crackers?' I'm always on the look out for interesting gift ideas to share.
What would you put in yours?
The Keep This Cracker construction is PATENT PROTECTED and a registered design.
The ecosnap is exclusive to Keep This Cracker and approved manufacturer and stockists, registered trademark and a registered design.
© 2023 Bea Thackeray